By Marinka Copier, conference manager
Our aim for the inaugural DiGRA conference Level Up was to promote high-quality research of computer games and the recognition of game studies as an academic field of enquiry. We designed a three day conference program that was dynamic and explored game research beyond the borders of the university. In doing so we meant to encourage a dialogue between researchers, practitioners, commercial organizations and policy makers. Leading researchers and designers from many different disciplines and from all over the world presented approaches from which games can be considered. We supported curriculum development and invited students to the conference to present their work.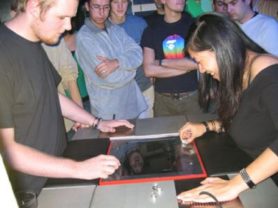 The diverse program was reflected in the Conference Proceedings in which computer games and game research methodologies are discussed from many different perspectives. Narrative and pervasiveness were popular topics. There was also room for game reception, the individual player's relationship to the computergame. The relation between the designer and the game was discussed, focussing on design patterns, artificial intelligence and avatars. Games as a cultural phenomenon, like the construction of identity in gaming. And as a social phenomenon, effects of games on social behaviour.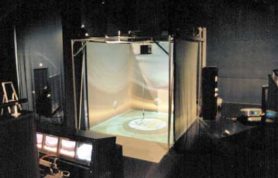 Apart from being a 'traditional academic conference' Level Up was a festival with numerous gaming activities. The Level Up Game Exhibition focused on computer games and art. It showcased how artists deal with the design of virtual game environments. We organized a LAN party in which participants could play with world-leading game players.The program also offered excursions to the CAVE (Cave Automatic Virtual Environment), a multiuser 3D virtual reality system based on multiple projectors and the Teylers Museum, the oldest museum in the Netherlands were participants enjoyed a presentation of the educational game Teylers Adventure which was developed by Waag Society.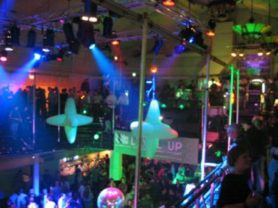 During the Level Up Gamefest a dance club was filled with games, music and drinks. We had several experimental games and installations, like the PainStation by Tilman Reiff and Volker Morawe from the Academy of Media Arts in Cologne. One floor up game inspired cocktails were served by game researchers and designers. To make this possible we involved the game industry: Electronic Arts, Nokia, Nintendo, Sony and Microsoft. We also collaborated with local partners: HKU University of the Arts Utrecht, Cinema 't Hoogt and dance club Tivoli. This resulted in a strong triple helix in games (higher education institutions, public sector and industry) for Utrecht and the Netherlands.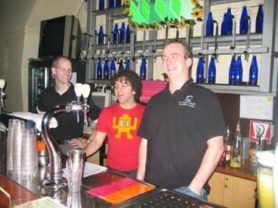 The Level Up conference was serious fun, we worked hard to establish game studies as a discipline. And DiGRA as an association for both academics and professionals who research digital games and associated phenomena. We had loads of fun while doing so and turned Utrecht into Game City. Luckily we decided to document the inaugural DiGRA conference thoroughly, making it now possible to relive this important moment in the history of game studies.